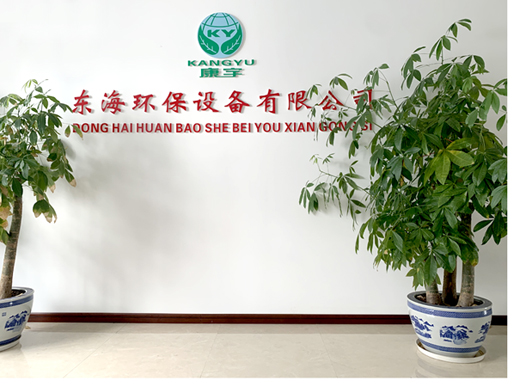 瑞安市东海环保设备有限公司是一家专业生产环保设备的股份合作制企业,厂区环境优美,位于经济发达、交通便利的浙江省瑞安市置慧工业园。
东海环保设备专业生产卸料器、RVC/RVB/RVA型卸料器、YJD/YCD型卸料器、非标型卸料器及输送机、插板阀、翻板阀、分料阀、蝶阀、脉动阀、斗式提升机、加湿机等物料输送产品,主要应用于冶金、电力、钢铁、煤炭、矿山、建材、水泥、化工及特殊物料输送等行业。
本公司创办于1958年(原名国营瑞安飞云江农垦机械厂)以专业生产C620车床和模具,1981年开始生产卸料器、螺旋输送机、翻板阀、插板阀等。1990年更名为瑞安市东海环保设备厂。公司于 2003年元月在上海投入巨资,成立上海天顺环保设备有限公司。公司占地面积25000 ㎡,建筑面积18000㎡,拥有10多名高、中级工程师, 60多名专业人员和一支强大的销售及服务队伍。并通过ISO9001:2000 国际质量管理体系认证,是一家集调研,设计,开发,制造,服务为一体的专业输送、卸料技术装备生产企业。
东海环保设备是一家集开发、设计、生产为一体的技术密集型企业,拥有雄厚的技术力量、丰富的生产经验和良好的售后服务体系。产品投放市场以来,凭借产品质量稳定、性能优良而深受广大用户的信赖。企业本着"没有最好、唯有更好"的宗旨,竭诚欢迎海内外客房携手合作,共谋发展。
Rui'an Donghai Environmental Protection Equipment Co., Ltd. is a joint-stock cooperative enterprise specializing in the production of environmental protection equipment. The factory area has a beautiful environment, and is located in the economically developed and conveniently located Zhihui Industrial Park in Rui'an City, Zhejiang Province.
Donghai Environmental Protection Equipment specializes in the production of material transportation products such as unloaders, RVC/RVB/RVA type unloaders, YJD/YCD type unloaders, non-standard unloaders and conveyors, plug valves, flap valves, distribution valves, butterfly valves, pulsation valves, bucket elevators, humidifiers, and other materials, mainly used in metallurgy, electricity, steel, coal, mining, building materials, cement, chemical, and special material transportation industries.
The company was founded in 1958 (formerly known as the state-owned Rui'an Feiyunjiang Agricultural Reclamation Machinery Factory) to specializing in the production of C620 lathes and molds. In 1981, it began to produce unloaders, screw conveyors, flap valves, plug valves, etc. In 1990, it was renamed Rui'an Donghai Environmental Protection Equipment Factory. The company invested heavily in Shanghai in January 2003 to establish Shanghai Tianshun Environmental Protection Equipment Co., Ltd. The company covers an area of 25000 ㎡, with a construction area of 18000 ㎡. It has over 10 senior and intermediate engineers, over 60 professionals, and a strong sales and service team. And passed the ISO9001: 2000 international quality management system certification, is a collection of research, design, development, manufacturing, service as one of the professional transportation, unloading technology and equipment production enterprises.
Donghai Environmental Protection Equipment is a technology intensive enterprise integrating development, design, and production, with strong technical force, rich production experience, and a good after-sales service system. Since the product was launched on the market, it has been deeply trusted by users due to its stable quality and excellent performance. The company adheres to the principle of "no best, only better" and sincerely welcomes cooperation and common development between domestic and foreign guest rooms.